Installation of a photovotaic canopy on the building Les Thermes de Dax designed by the famous architect Jean Nouvel
Our firm is going to prepare the installation of a photovoltaic canopy on the building "Les Thermes de Dax" in early 2017.
"Les Thermes de Dax" is a building designed in 1992 by the famous French architect Jean Nouvel. Those thermal baths receive numerous clients from all over France.
What we wil do is to replace the former canopy of the building by a new photovoltaic canopy. The power of this canopy is of 33 kWp. The electricity will be used in auto-consumption.
For this construction, we designed a singular canopy. With its irrigular shape and with its complex structure, this canopy become a very technical product that necessitates a strong expertise for its realization.  It will be made of standards 2ES panels and with silk-screen on glass 2ES panels.
Below you can view a 3D modelling of the future canopy :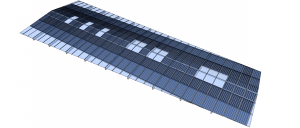 The building site is expected to be completed in February 2017 and the official opening of the thermal complex will be on 17 March of the same year